What is the Duncan Rhodes Painting Academy?
The Duncan Rhodes Painting Academy, or DRPA for short, is a Membership site where you can come and learn to paint your favourite miniatures. Whether you are a beginner or even an experienced miniature painter, the Duncan Rhodes Painting Academy will teach you all the techniques you need to know to paint any model you desire.
enjoy these sample tutorials
This is just a small taster of the video tutorials we have on the site. We will be adding new, exclusive content every week that can only be found right here for our members. We will be covering all manner of miniatures, techniques and advice, everything to help you improve your painting skills. Check out the full list of videos and a gallery of the tutorials on the site by clicking the link below.
Lord Kroak is an amazing updated sculpt for a fan favourite character, one that has been around for many, many years. We got a lot of requests from our amazing Academy Members for this incredible miniature that we just had to oblige. At first glance you may look it at and think "Where do I even begin?". Thankfully, we created a full, in-depth tutorial that will guide you through the process we used to paint Lord Kroak from start to finish.
Check out the gallery below for a sample of our 100+ Tutorials
FULL PAINTING TUTORIALS
Whether you want to paint a single figure, a vehicle, a monster or even a piece of scenery and not to mention new techniques, you will find an in-depth tutorial here just for you.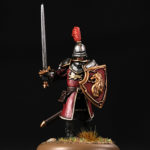 NEW CONTENT EVERY WEEK
Every week we will be adding brand new content for Members only. Whether it's video painting tutorials, blog posts and online painting guides, you can be sure you'll always have something to both help and inspire you.
WE HAVE A DUNCAN
With over 7 years experience, running painting seminars all around the world and hundreds of video tutorials under his belt, there is no one better to both teach and give you the confidence to achieve the results you've always dreamed of.
£3.99 PER MONTH
That's about the same price as a really nice cup of coffee. Not too bad for expertly produced painting tutorials and tons of inspiration.
SO WHAT ARE YOU WAITING FOR?
Keep up with all the
Academy News
Sign up to our weekly newsletter to find out about what's happening in the Academy from upcoming video tutorials, teasers, giveaways and announcements. Just fill in a few details below and you're ready to go.   
There are many fantastic, small, independent miniature and games studios out there and we believe in helping each other out wherever we can. If you feel like checking out something a bit different, then please feel free to give these guys a look-see. You may just be surprised at what you can discover…