What is the Duncan Rhodes Painting Academy?
The Duncan Rhodes Painting Academy, or DRPA for short, is a Membership site where you can come and learn to paint your favourite miniatures. Whether you are a beginner or even an experienced miniature painter, the Duncan Rhodes Painting Academy will teach you all the techniques you need to know to paint any model you desire.
enjoy these sample tutorials
This is just a small taster of the video tutorials we have on the site. We will be adding new, exclusive content every week that can only be found right here for our members. We will be covering all manner of miniatures, techniques and advice, everything to help you improve your painting skills. Check out the full list of videos and a gallery of the tutorials on the site by clicking the link below.
To celebrate the holiday season we thought we'd have a bit of fun and paint one of our most popular stretch goals from our Kickstarter Campaign, the cute, but oh-so-deadly Battle Pug! We paint him from start to finish using the paints from our upcoming paint range (Currently in full-production right now!) As for next year, we will be kicking it off with a bang by painting one of the most frightening characters from the Grim Dark Universe. Quite a contrast to the cute little doggie to the left. I mean who can resist those big brown eyes? 
Have an amazing holiday season everyone and we'll see you all in 2022!
Our new painting tutorial video this week is for Karazai the Scarred, a mighty dragon miniature for Warhammer Age of Sigmar by Games Workshop. Everyone loves having a dragon in their army, and this one appeals as a real classic – a huge monstrous beast with broad wings, horns, and lashing tail. The colour scheme too is very appealing in a bright vibrant orange and red, evoking fire and rage in the classic red dragon style of Dungeons and Dragons. Plenty of great techniques is covered such as how to approach painting large monsters, how to blend with Contrast Paints as well as how to create and add a simple glaze to add more vibrancy to your miniature.
Check out the gallery below for a sample of our 160+ Tutorials
FULL PAINTING TUTORIALS
Whether you want to paint a single figure, a vehicle, a monster or even a piece of scenery and not to mention new techniques, you will find an in-depth tutorial here just for you.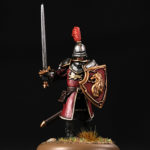 NEW CONTENT EVERY WEEK
Every week we will be adding brand new content for Members only. Whether it's video painting tutorials, blog posts and online painting guides, you can be sure you'll always have something to both help and inspire you.
WE HAVE A DUNCAN
With over 10 years experience, running painting seminars all around the world and hundreds of video tutorials under his belt, there is no one better to both teach and give you the confidence to achieve the results you've always dreamed of.
£3.99 PER MONTH
That's about the same price as a really nice cup of coffee. Not too bad for expertly produced painting tutorials and tons of inspiration.
MONTHLY PAINTING CHALLENGES
Every month we host a fun painting challenge on our Forum where Academy Members can show off their amazing work and get both inspired and motivated by an amazing community of hobbyists. The winners get an exclusive DRPA Pin badge and an hour online hang out with Duncan where they can ask any questions they want or just simply hang out and paint.
Here's what our Members have to say
I joined the Academy after watching one of the free videos on Youtube. I used to paint back in 6th edition Warhammer Fantasy but then had a motorbike accident which left me with a paralysed dominant arm so after a break of about 7 years from the hobby while I recovered I had to teach myself to paint with the wrong hand. The Academy videos are so well directed; easy to follow step-by-step instructions with tips on everything from weathering to basing. There are so many game systems covered too, not just AoS/40k. With a virtual Duncan to hold my hand every step of the way, I felt confident enough to paint a Krakeneater Mega-Gargant and it is the best model I've ever painted. The forums are helpful too, with people exchanging ideas and posting pictures of their armies. I'd thoroughly recommend joining, I've had tens of hours of enjoyment watching videos even for games/factions I don't play because the techniques can be applied regardless of the game system. I used the Frank Horrigan (Fallout Wasteland Warfare) armour recipe for a Space Marine Inceptor (40k) for example. Well worth the minimal cost to get access to so much hobby content.
Whether you want specific help on a miniature or something in the background while you paint, I can't recommend Duncan and Rog enough. Buy them a cup of coffee a month and in return, you get HOURS of high quality, high effort content without being spammed by advertisements. I've been in the hobby since the Christmas of 2000 and I credit Duncan and Roger as the catalyst for my painting improvements. There is something for everyone here.
Duncan's painting academy videos are not only fun to watch, they also helped me a lot in understanding different painting techniques and how to achieve beautiful results within reasonable amounts of time. Best of all, they are understandable and practicable even for beginner painters like me. Definitely would recommend!
I returned to the hobby of miniature painting in the first lockdown after many years being away from it. I happened to come across DRPA on YouTube and I decided to take a chance and join the academy. I wanted to improve my standard of painting to a solid level that I can be proud of. I can honestly say I have achieved this, with great pride. I have learned many things since joining the academy, the list is endless. There are techniques anyone can master and achieve fantastic results, without expensive equipment (airbrushes). The DRPA gave me the confidence to take my painting beyond my comfort zone and step into the world of mixing paints and building up colours to create smooth blends of colour. Which in turn has helped my understanding of colour theory, and what colour work well with each other. Personally I more interested in historical miniatures and some fantasy based miniatures such as LOTR or GOT. But this hasn't stopped me from learning all the different techniques used in all the videos across all the different ranges of miniatures used in the videos. Go ahead take the chance and join the academy, you won't regret it!
The Academy is often my first step when I am starting a new project. Sometimes I'll find a base that inspire me or an entirely new game system that i didn't know. A good example of this is my latest army, Lumineth from Iliatha, which was entirely inspired by tutorials on the website and sharing the progress with everyone on the Forum was a good motivation to keep me going!
Duncan & Roger have drastically helped me with my miniature painting and I can not recommend them enough! If you have ever wanted get into a tabletop game and want your miniatures to look amazing look no further than Duncan Rhodes Painting Academy, these guys are the real deal 5/5 stars
The DRPA has helped me improve my painting so much, with everything from how to progress and which techniques to apply in which way, to helpful tips and tricks to help your models stand out or just give them that special extra touch. The dedication, passion and joy Duncan and Roger put into each and every video make you look forward to every Friday when new videos are uploaded!
The Duncan Rhodes Painting Academy has helped me gain so many tools and techniques to gain more confidence and be able to paint things I normally would be able to. Allowing me to expand my artistic abilities and paint things from various games, times, and moments that I love! Duncan does an excellent job explaining hows and why to use a technique and that coupled with Rog's camera work and excellent editing really do a good job of getting all the information across.
I took up miniature painting a little over a year ago when lockdowns first started as a way to pass the time, and the DRPA tutorials have improved the results I have been able to get tremendously over the few months that I have been a subscriber. I find that I am always able to take something useful away from a video, whether it be a new technique or a recipe for an usual texture, even if it is for a model or army I don't collect. I recently followed Duncan's Judiciar tutorial and was very happy with the result. This is something I never would have dreamed I would be able to accomplish when I first took up the hobby, and owe it all to the folks at DRPA. Thank you so much!
SO WHAT ARE YOU WAITING FOR?
Keep up with all the
Academy News
Sign up to our weekly newsletter to find out about what's happening in the Academy from upcoming video tutorials, teasers, giveaways and announcements. Just fill in a few details below and you're ready to go.   
There are many fantastic, small, independent miniature and games studios out there and we believe in helping each other out wherever we can. If you feel like checking out something a bit different, then please feel free to give these guys a look-see. You may just be surprised at what you can discover…